High quality tree care will make your trees stand out. Utilizing the services of Kansas Tree Care is one of the best investments you will make.
Here are some of the benefits you will receive when you hire Kansas Tree Care to provide you with high quality tree trimming:
We will remove dead branches that harbor disease causing fungus and pests.
We will remove cracked and crossing branches. Your tree will be healthier and will grow into a more ideal, beautiful form.
Gentle, skilled crown thinning of your tree will reduce wind, ice, and snow load. Your tree will be more resitant to being damaged in the storms that are a regular feature of life in NE Kansas.
When we trim your trees, full cleanup, hauling, and disposal of  all debris will be included.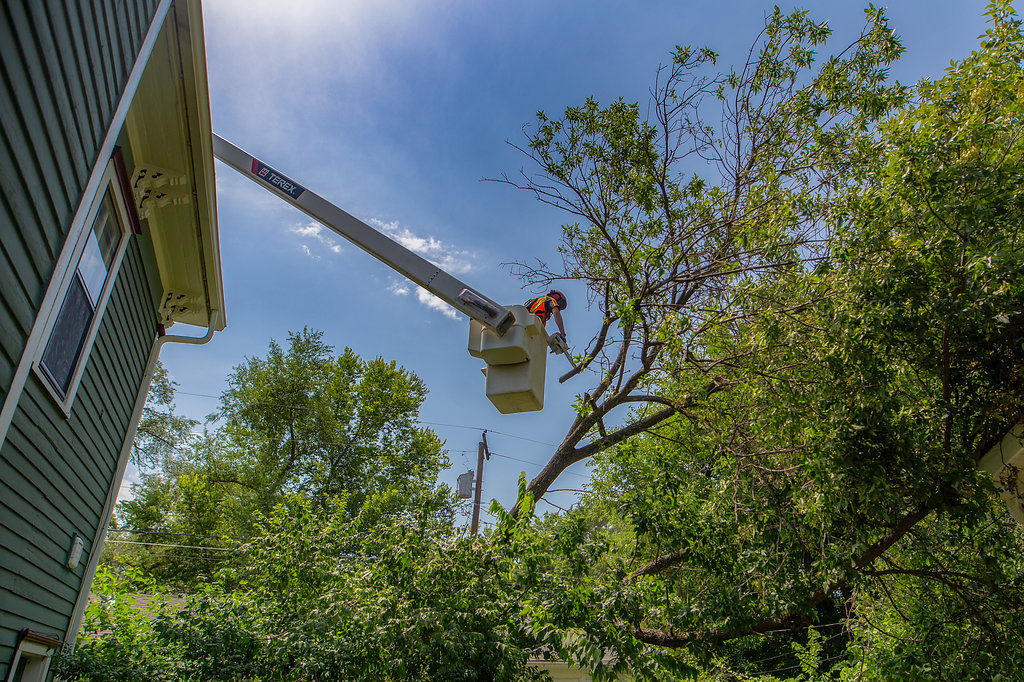 Call For Your Free Quote:
(785) 843-8733
"These guys are the best I have ever hired to Trim/Remove a tree on my property and I have lived in 5 states with trees of all kinds of need. If you are looking for true safety professionals in this business, no need to look farther. They are simply the best!"
"My husband Steve and I had a wonderful experience with Kansas Tree Care. Our neighbors referred them to us for a small job – removing a tree stump and three volunteer trees. They were punctual and professional. The work was done quickly and clean-up was perfect. We found them to be pleasant to work with and were very comfortable with each of the workers. Absolutely recommend them to anyone needing work done."
"This company is exceptionally professional in punctuality, appearance and quality of work. They came out to our house and addressed all questions and concerns we had and made sure to do what was in the trees' best interest, which made us feel very comfortable. I have and will continue to recommend them to friends, family and business associates. Hire them, you won't regret it. Thank you Kansas Tree Care, you rock!"
Kansas Tree Care
Your Tree Trimming Specialists
When you use Kansas Tree Care to trim trees on your property, you will be hiring the top tree service in the area.
Voted Best of Lawrence
5-STAR Google rating
Nicest, most trusted arborists around.
My tree is very tall, how will you reach so high?
We have a custom built rear-mount 65 foot bucket truck that can access many trees. If needed, we will climb your tree using safety equipment designed specifically for the tree industry. If we need to drive the bucket truck onto your yard because a tree is unsafe to climb, we use ground protection mats to prevent causing ruts or other damage. When you contact us we will discuss the specific method of access best suited for your project.
What is the best time of year to trim my tree?
Most tree pruning can be done year round. It is beneficial to remove dead branches at any time. Small amounts of living material can also safely be removed year round from most species. Your tree usually does not need large amounts of live branches removed, which is generally harmful to trees. However if this needs to be done, to clear the tree away from your house for example, it is best to do it during the time of year that your tree is dormant, between November 1st and March 1st. It is important to do all trimming of live branches on American Elms and mature oak trees during the dormant season, to prevent the spread of diseases which affect these species.
When you remove limbs on my tree how do you safely get them down?
We will remove your trees or limbs carefully, dismantling them piece by piece. We lower the cut limbs on ropes in a controlled manner. They are then moved to a woodchipper and turned into chips and given away for landscaping and gardening. 
Are you licensed and do you have insurance that will protect me when you work on my property?
Yes. We carry two million dollars of general liability insurance coverage, as well as workers compensation and coverage for our vehicles and equipment. We are licensed arborists with the City of Lawrence.
When you trim my tree will it include hauling away the branches and wood?
Yes. Cleanup, loading, hauling, and disposal of all resulting debris will be included.
When you trim my tree and chip the branches, what do you do with the wood chips?
We deliver them free of charge to locals to use in gardens and landscaping. You are welcome to keep the woodchips yourself. We will back the chip truck up and dump the chips into a pile.